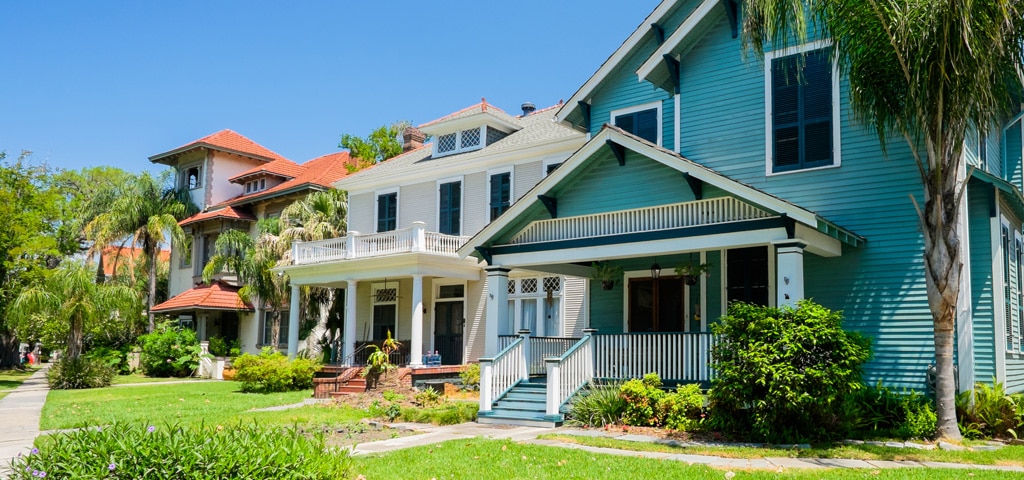 Protect Your Residence, Assets, and Overall Way of Life
Berkshire Hathaway GUARD's Homeowners insurance products through Omega Insurance Solutions provide the traditional property and liability coverages needed by homeowners to protect their residence, assets, and overall way of life. With a variety of optional Add-On's and a unique Personal Property Plus Endorsement Package, coverage can be extended and limits increased—all at an affordable price. Together with the financial stability that comes from selecting a member of the Berkshire Hathaway Group (one of the strongest in the world), the result is truly a customized and secure home insurance solution that provides peace of mind for your clients.
Policies
Homeowners HO 02, 03, 05
Designed for owners/occupants of one- to four-family dwellings, including townhouses and row homes. Purchaser occupants, life estate arrangements, seasonal dwellings, and homes under construction will be considered.
Renters - HO 04
Designed for tenants (non-owners) of a dwelling, cooperative unit, or a building containing an apartment not otherwise eligible for Homeowners insurance.
Condo Unit Owners - HO 06
Designed for owners of a condominium or cooperative unit.
Special Circumstances
In addition to standard exposures, we aim to provide a bridge for real-life situations in which the lines between business and personal insurance needs are not so neatly drawn. We will consider Home owners coverage for:
Residences owned by business entities such as LLCs or corporations
Dwellings held for rent
Home-sharing services (e.g., Airbnb)
Residences where certain incidental business activities occur
Savings
Since we recognize that not all homeowners are the same, we offer a wide range of credits for risks with the following characteristics:
newly purchased home (with copy of buyer's inspection report)
new construction or recently renovated dwelling
approved and properly maintained protective devices in place (burglar alarm, fire alarm, automatic sprinkler, water sensors)
Workers' Compensation, Business owner's Policy, or Commercial Auto Policy with Berkshire Hathaway GUARD*
another Homeowners Policy with Berkshire Hathaway GUARD
Personal Umbrella Policy purchased with Berkshire Hathaway GUARD
Agency Auto Bundle (Personal Auto Policy with submitting agency)A substantial discount (60% savings on most coverages!) is also available to customers who select our Personal Property Plus Endorsement Package that features our most popular coverage upgrades.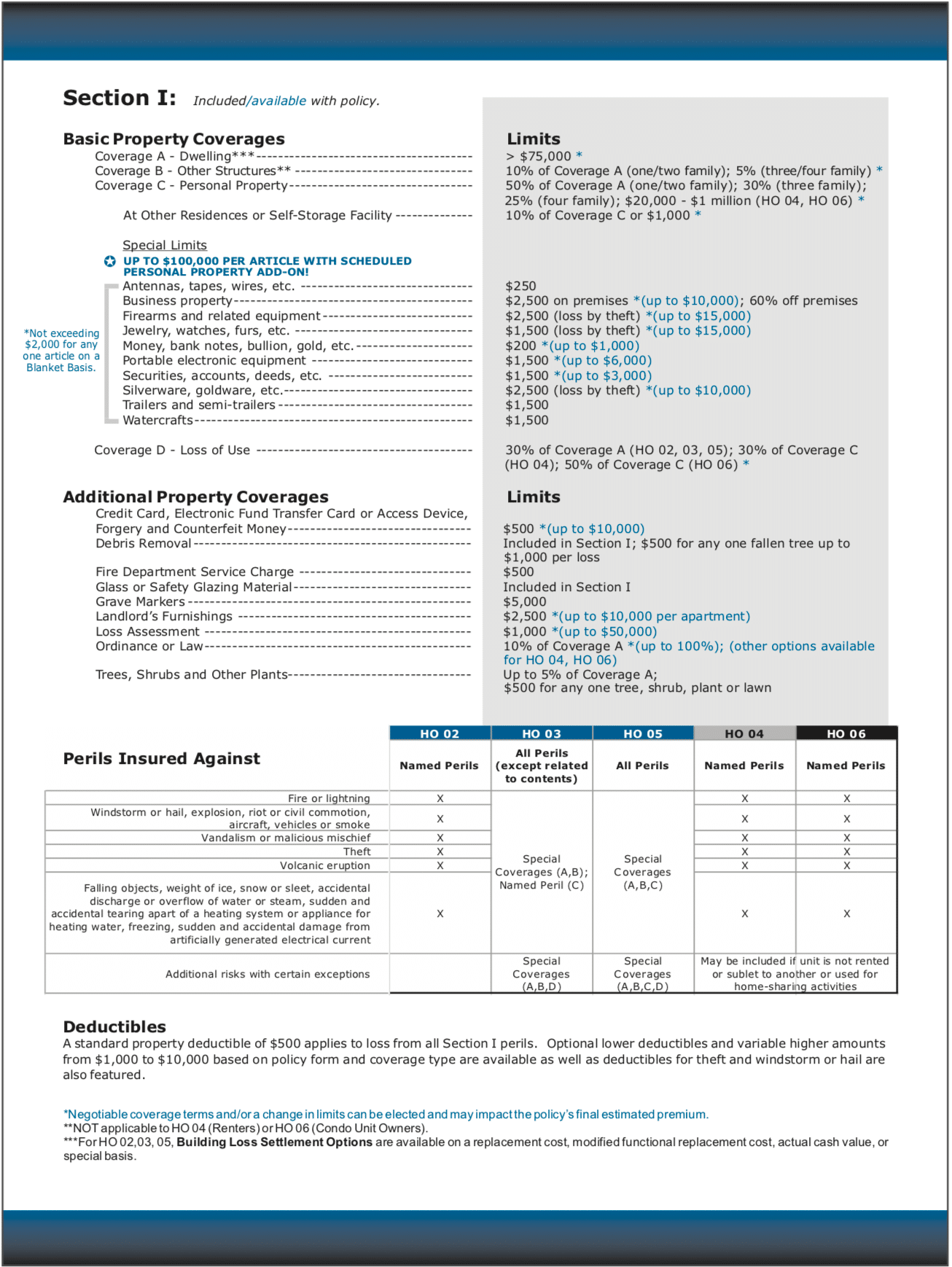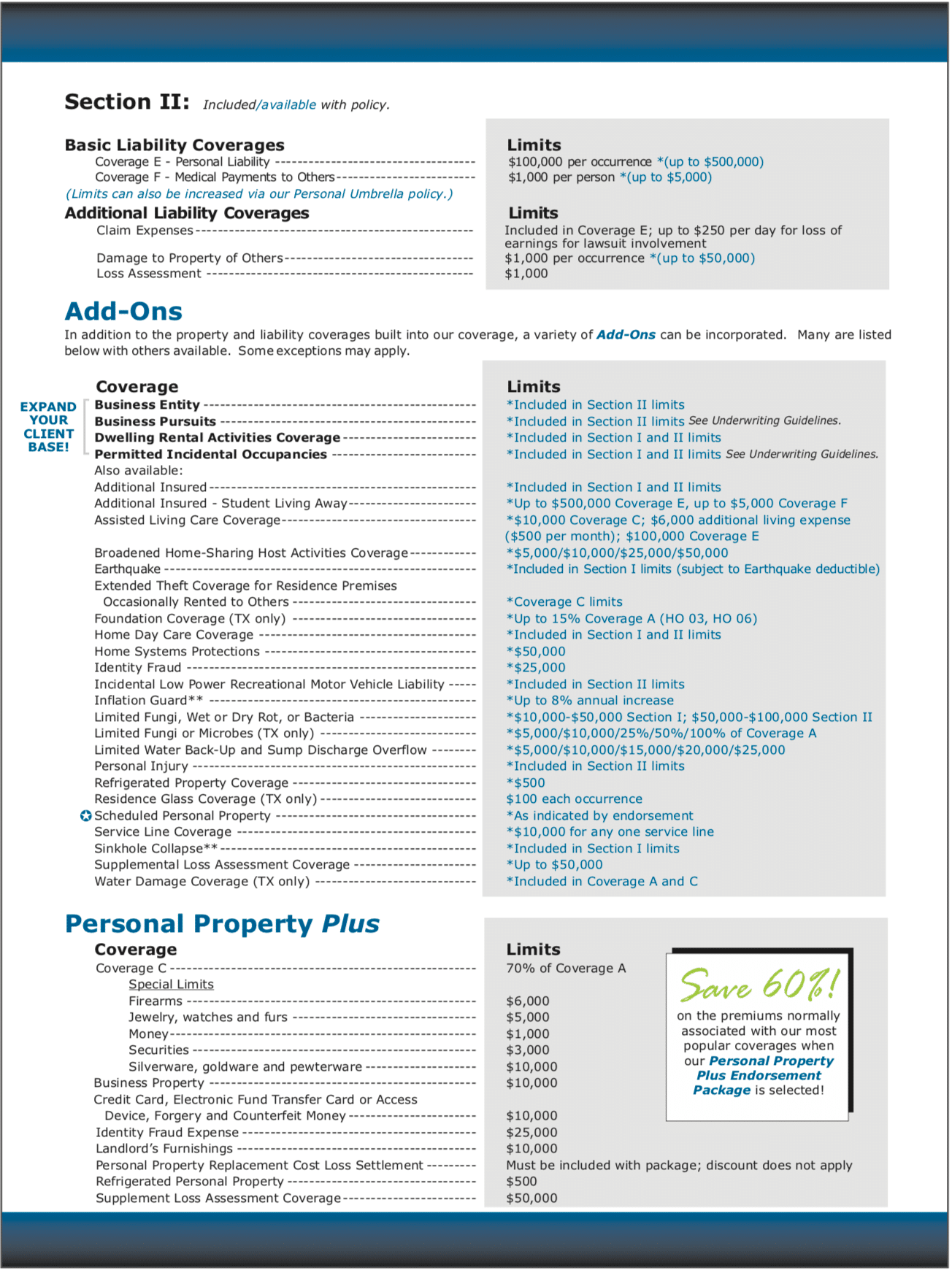 Underwriting Guidelines
Although the final qualifying criteria for any applicant will depend upon the particular nature of the risk, we offer the following guidelines:
General
One-family dwellings, apartment rentals, and condominiums cannot be occupied by more than one additional family or two boarders.
Premises must be used primarily for private, residential purposes (see Permitted Incidental Occupancies).
Domestic animals only; multiple canines may be permitted on the residence (certain breeds excluded).
Incidental farm liability can be elected.
Certain coastal locations considered (refer to our Homeowners Coastal
Guidelines available via the Agency Service Center)
Permitted Incidental Occupancies
Offices for business or professional purposes - minimal foot traffic
Private schools or studios for music, dance, photography, and instructional purposes; less than 20 hours per week preferred 3 Day care exposure up to three children
Permitted Business Pursuits
Clerical office employees
Sales people, collectors, and messengers
Teachers (athletic, laboratory, manual training, physical training, and otherwise not classified); corporal punishment is excluded
Minimum Premiums
$250 (HO 02, 03, 05); $100 (HO 04); and $150 (HO 06)
Unacceptable Risks
Any occupancy with heavy foot traffic in the home (even if covered by other insurance)
Homes that are for sale or will be "flipped"
The liability of an additional location(s) in other states
A stand-alone rental (HO 04) when the home is in a dorm or nursing home/assisted living facility
Homes for rent when held by a trust

With our Homeowners coverage, policyholders can receive a 30% discount on the purchase of a Guardian Leak Prevention System Plus and qualify for a premium discount on their policy.
Personal Umbrella Policy
Lawsuits and other losses associated with a home can be financially devastating. Berkshire Hathaway GUARD's Personal Umbrella Policy offers liability coverage above and beyond the limits of our standard Homeowners policies, helping to protect against potentially catastrophic situations. Furthermore, our Personal Umbrella will extend over your client's AUTO liability coverage with any carrier rated A- or better!
Umbrella coverage takes effect when the limits of the underlying insurance policy have been reached. Some examples of covered losses might include: auto liability, bodily injury, property damage, and other personal lines situations.
Our policy can be customized via a variety of endorsements designed to address special needs, including the pursuit of certain business activities occurring within a residence covered by our Homeowners policy.
Policyholders who elect this coverage will receive a Homeowners Policy credit.
Experience the Omega difference.